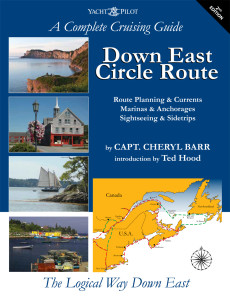 The Down East Circle Route
By Capt. Cheryl Barr
The Cruising Guide to the Down East Circle Route (2nd Ed.) provides cruising directions for  yachtsmen seeking an adventure and the rewards that the most beautiful and unspoiled cruising  ground on the eastern seaboard of North America has to offer. Navigational details for: Hudson  River, Erie Canal, St. Lawrence River, Gulf of St. Lawrence, Nova Scotia. Route planning and  itinerary, marinas, anchorages, currents, side trips, pertinent GPS co-ordinates, sightseeing.  Includes many cruise-tested tips to help make the circle route easy.
Capt. Cheryl Barr has completed the Down East Circle Route by sailboat and by power vessel.  With the information collected on these voyages Cheryl has compiled a well written,  comprehensive cruising guide that is presented in a large, easy-to-read format.
Price:  $45 USD + Shipping & Handling


ISBN: 9780973165920
Illustrated: Photos & Diagrams
Pages: 226
Published: Yacht Pilot Publishing, 2011
Format: 8.5"x 11" soft cover, black/white